Post by Mara on Apr 7, 2016 12:31:59 GMT -6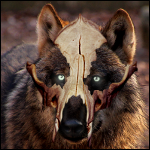 D E S C R I P T I O N
Tenebris, though rarely if ever referred to by its official name, is an exclusive band of unlikely wolves. A dysfunctional society of rogues, the only glue to this group is mutual respect and an utterly twisted sense of life. Their hierarchy is simple and decentralized—one is either in, or out. Any wolf that seeks them out should do so with extreme caution, as outsiders are only taken to if they appeal to this party's particular taste. The simple fact is that these creatures rule by entirely separate moral codes and behavioral norms from any other wolf on the continent, for they know the only thing that remains in the end is darkness.

It is also important to note that Tenebris is closed and private. Members are only let into the group by invitation. Wolves may not approach the group and ask for membership unless they yearn for immediate execution. Also be aware that any threads within the Occasus may be mature and it should be assumed that content will not be appropriate for all audiences. All threads within the Occasus are open for any Tenebris member to enter at any time without warning.
H I S T O R Y
Tenebris was never created, so much as it was a naturally occurring phenomena. After completing the agoge of Kairos alone, Raum defected from the pack as an outsider, hated and looked down upon by his peers and feared by his family. Some time before, as Valyn was driven from Kal'dyne, so were Mint and Leviathan. The two chose to leave the ranks of their matriarchy, their disloyalty a byproduct of apathy and distrust. The meeting of the three was purely fate, and after renaming the former to Mara and the latter bound together by a sense of twisted kinship, the triad moved on as one.
B A S I C S
Members: Raum, Leviathan, Mara, Taranis, Quinn, Harlot, Hemlock
Lands: The Occasus
Alliances: --
Founding Member(s): Raum, Leviathan, Mara

T H E D E I T I E S
God/Goddess: @raum ,

Leviathan

,

Mara


Servant: @kurja

T H E M U R D E R
The Murder:


T H E C O R E
Slaver:
Proxy: @taranis


T H E O T H E R S ?
Elect: @abaddon

,

Namaah

,

Tanha

,

@raga ,

Arati

,

Crow

,

@lucifer , @ignacia
Captive: @scarlett , @iauron