Post by Deleted on Mar 19, 2016 16:55:35 GMT -6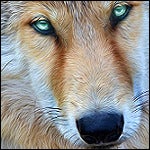 (ah-non-kee) "In ancient Greek religion, Ananke ("force, constraint, necessity") was the personification of destiny. She marks the beginning of the cosmos. Ananke was seen as the most powerful dictator of all fate and circumstance which meant that mortals, as well as the Gods, respected her and paid homage."



Established October 18, 2015

Pack Color:

ffcc00
D E S C R I P T I O N

The very foundation of Ananke is built upon the idea of sanctuary. With Ananke, things that might normally affect ones chances of being accepted into other packs – such as gender, size, and various other attributes – do not matter. Ananke is a place for those who seek a home, a family, and unity. While each member is certainly expected to contribute and pull their weight, one will never be required to fit into a role that is not suited for them. Ananke is overall built upon the idea that everyone has a place, a purpose, and together, the pack works towards finding a comfortable balance between the wolves that reside together.

The young are important to Ananke, and from weaning to 1 year (or longer, if necessary), is to be called "Apprentice." Each is mentored by an adult who assists in their training for a future rank within the pack (such as warrior, pup guardian, or justice). Each wolf contributes to the safety and well-being of Ananke to build a solid foundation - and a true home.

O R D E R
Justice within the pack is provided by a trusted group that act as judge and jury. To prevent corruption, a Counsel is formed, comprised of wolves from any rank (disregarding omegas and prisoners). Cases are circumstantial, depending on what the crime is and how serious it is. The worst crimes jeopardize the safety or claims of the pack, since unity of the utmost importance. Injuring a pack mate, or negligence that leads to injury, would be viewed very harshly. These protections are even stronger for pups: if someone abuses a pup (their own or someone else's), it is a serious offense. Betraying Ananke is viewed as the most deplorable crime, such as leaking confidential information or abandoning the pack.

Please note that any wolf in the Chief tier may enter threads that take place in Ananke territory, regardless of if they are open or not. This includes the Chieftain, High Counselor, Maester, Paramour, and Legion Commander.
L E G I O N
Ananke's combatant ranks make up the Legion, so named after the basic military unit of the ancient Roman army. The Legion boasts many different skill sets, with ranks catering to a variety of talents and interests: Fierce Warriors fight for the pack's safety and honor. Sentries constantly patrol Ananke's claims and protect borders. Crusaders are honored wolves who have proven themselves as the elite warriors. Mercenaries go to where the action is and where the rewards for Ananke are deemed worthwhile. Slayers act as executioners and assassins. Watchers gather information to benefit the pack. Whether fighting in the name of Ananke or aiding an ally, the Legion is a fearsome collection of trained killers.

H I S T O R Y
Morrigan and Nimue were born into Kairos, but from a young age, both females saw the unfairness within the hierarchy of their natal pack. They were not willing to become breeders for their father's empire, bolstering its population with each breeding season. Fearful that they would be separated and sent to foreign territories, Morrigan and Nimue fled their home on a dark, stormy night. They were not yet a year old, but the sisters were strong enough to survive on their own, and smart enough to learn to adapt to their new world and their newfound freedom.

Erebos, too born into the Kairos empire with a predetermined fate, wasn't oblivious to the difference he saw in his half-sisters. Unwilling to adapt to a combatant lifestyle, sharing in the desires of Morrigan and Nimue to run away, to be free to pursue a morbid interest in poisons - something neither parent ever condoned - he joined them in the midst of the night. He carelessly abandoned the expectations placed upon him since birth, and had been more than happy to leave behind a special token of his gratitude for having the opportunity to participate in the ruthless Agoge: a poisoned carcass upon which any member of Kairos could feed, unable to punish the traitor once recovered from the effects when he had already vanished without so much as a trace upon the tails of his new leaders.




B A S I C S
Current Totals: 13

+ 10

= 23

Members: Nimue, Veles,

Skye, Arlo, Micah, Maxim, Ayla, Wren, Talim, Z'vra, Denali, Rainan, Harper, Circe, Oriole, Galah, Rosella, Yara, Severus, Serenity, Irithya , Lyssa, Aleck

Territory: Aveline

Alliances: Kairos, Ultoris, Pacali

Founding Member(s): Morrigan, Nimue, Erebos, Cían Ethlend, Silver, Arya, Eve, Phantom, Mathias, Veles, Journey
CHIEF TIER
Chieftan: @nimue


High Counselor: @veles Paramour:

Micah

Maester:

Legion Commander:
MAGISTRATE TIER
Justice: @maxim

Counsel:

@maxim , @skye ,

Micah

, @veles
LEGION TIER
Warrior:

Strategian:
Sentry: @talim

Mercenary:

Watcher:

Slayer:
ORIGIN TIER
Lead Hunter: @skye

Hunter:

Guardian: @ayla

Curer:

@arlo

Apprentice:

@oriole , @circe , @galah , @harper ,

Rainan

, @denali
LOWER TIER
Omega:

Prisoners: