Post by Deleted on Apr 21, 2017 7:59:22 GMT -6
HOVER
[attr="class","plbase"]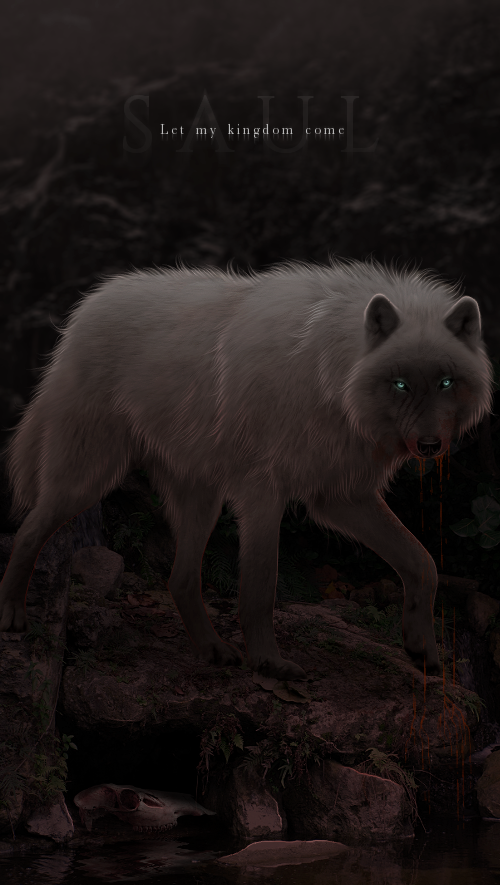 [attr="class","pltxt"] The dawn of a new era had arrived.
The beaming orbs of the ashen brute opened at the slightest hint of sunlight that had hit against his fur. He rose, his hulking body moving with fury, power coursing through his veins as he felt the divinity within him come forward. Today was the day, he felt it in his bones and it was making his entire body tremble with delirious ecstasy. Every step he took was a step closer to the kingdom of the powerful, and the home of the worthy. Saul had been traveling with Far and Król for some time now, searching for a place to claim as the center of their kingdom, and Saul knew that they were closer than ever before. Sea-brushed eyes saw the floor beneath his paws go from lush green pastures to dry, brittle soil in a span of weeks, and he was indubitably pleased. He knew that the kingdom he had needed to have a territory that instilled fear just as well as the pack did--they needed a home that reflected who they were.
And, he had found it.
Stopping in his tracks, he saw crimson mountains that spanned across miles, and the soil beneath them was barren. They still had a water source, but everything else reeked of death and hopelessness. This, somehow, made the place much more perfect. He had been here before--this place wasn't far away from his birth land. He took it as a sign that this was their promised land, the one that he had been given by birthright. David had taken his kingdom, but he would rebuild it upon the ashes of those who opposed him. He observed his new realm as he stood on top of the pile of rocks that surrounded him, and raised his maw to emit a long, ominous song that would claim this land as their own. Today, they would begin to spread chaos across the island, and others would
stutter
at the sound of their names.
This would be the realm of the gods.
---
@far +
Król
and then everyone else!
[newclass=.pltxt]position: relative; z-index: 200; opacity: 0; transition: all 1.1s ease; -webkit-transition: all 1.5s ease; -moz-transition: all 1.1s ease;[/newclass][newclass=.plbase:hover .pltxt]opacity: 0.6;[/newclass][newclass=.pltxt::-webkit-scrollbar]width: 8px;[/newclass][newclass=.pltxt::-webkit-scrollbar-thumb]background: #000000;[/newclass]