Post by Deleted on Jul 9, 2017 12:55:07 GMT -6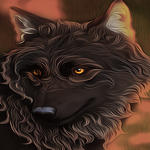 D E S C R I P T I O N
PACK COLOR: #345172
A pack formed from barbaric principles and thirst for power, Sethos strives to be feared by any who hear their names. Those who seek to join Sethos are to expected to obey King Saul without hesitation, or questioning. He is the King and the supreme deity of the pack, and his word is final. Members are expected to give gifts and sacrifices of all kinds to Saul as a sign of their loyalty and devotion to the supreme leader. The pack is savage, brutal and fearless, only selecting the strongest individuals to represent them in battle, but with the only exception; they are never above the King. They know their place. As an example, the King is known for having his Queen and a harem. High ranked males in the pack are allowed to have harems of their own if they please, but if they try to surpass, steal or claim one of Saul's females as their own, the male will be either heavily injured or killed in the spot as a reminder for everyone else to stay in their places, and their harem will be removed, and ultimately the females will be passed on to Saul as his property. These harems lower in number as the lead male ranks descend in power.

The Queen, on the other hand, is responsible for keeping the genetic quality of the pack, and she ensures that only the strongest genes will pass on from generation to generation. She is below Saul in authority, and rules alone in his absence. She will be respected as the second-highest in command in the entire pack. She is the one in charge of deeming a female worthy of procreating or not, and she is responsible of verifying every born litter in the pack to make sure only the strongest pups survive. Saul trusts her judgement blindly and gives her full authority over the reproductive aspects in Sethos, knowing that the Queen has what it takes to make sure only the strongest bloodlines persevere in the pack.

The pack is cruel--they raise males as warriors and brutal killers with no remorse, and females are treated as sexual objects, healers or vessels to expand their genes across the island. They seek to eliminate the weak by killing off any imperfect pup, any weak pack member, and eliminating anyone that may weaken the strength that makes Sethos who they are. There is no room here for anyone less than strong, and they seek to purge out the blood of the weak in Anikira. Males and females outside of the elite ranks and the harems are not allowed to breed, unless they prove their are worthy of such permission. All in all, Sethos strives to make Anikira stronger... killing one weak link at a time.

H I S T O R Y
Sethos is a pack born of a god and the one who met her match. Its tendrils began to form on a desolate landscape of hardened lava, an ominous scene only fitting for the two wolves who met there. Saul and Far had an instant connection that became more of a dangerous dance than a true relationship, built upon their unquenchable thirst for power. The bond hardened and solidified as the two set off together to seek an outlet for their shared ideals, and slowly, the pair began to stalk the land as if it were their own. Their kingdom came into play only when they set foot on foreign land, for the Southern Isles seemed to open doors to build their reign of terror. It was a chance to group and conquer without mercy, until they had every wolf was cowering at their feet with a single word upon their lips.

Sethos.

B A S I C S
Members: 7
Lands: Xisyn
Alliances: None
Founding Member(s): Saul, Far, Król
T H E - E L I T E S

King: @saul
Queen: @far
Pillai:
Thilas:

Król


Dominus:

Samson


Serdar: @scarecrow
Elites:
T H E - H A R E M S
The Althia:
The Alvar:

Selene


The Yoseba: Delilah
The Dhana:

P L E B E Y A N S
Chevaliers:
Esquires:
Soturi:
Ismat:
Plebeyan: @athena, @thyis
T H E - I M P U R E
Ruza:
Lamia:
Vanki: