Post by Deleted on May 9, 2016 16:02:17 GMT -6
This is a continuation of this thread.
[attr="class","plbase"]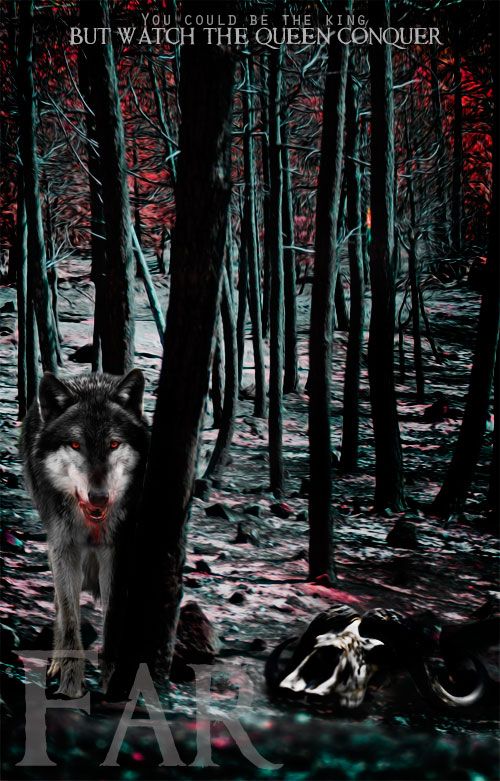 [attr="class","pltxt"]Far had taken to the swamp.

The dank air seemed to suit her, hanging like a veil so thick it held everything that breathed it in, in a chokehold. Everything smelt of rot, here. The plants soaked in moisture as there leaves decomposed. The ground was a burial ground. The moss was abundant and saturated. Danger lurked here in the form of large crocodiles and venomous snakes that lurk unseen. It was just the kind of place that suited the mottled black femme. She liked to stay on edge. She padded silently through the foliage now, ankle deep in water. She moved with soundless ripples, the old habit of stalking those around her still evident in her gait. She kept close to the ground, eyes cutting like rubies in the gloom.

Since making her decision to join this large pack, she had been surprised to find herself virtually useless. All of her talents—her indisputable cunning and skill at the art of killing enemies—were going to utter waste. Her lip curled at the thought, tongue twisting inside her maw restlessly. She wanted to taste blood on her lips, the blood of those inferior to her. She wanted to serve the pack of giants with all she had to offer. Through that, she would be making life better for all wolves.

Ears that had been angled back in annoyance suddenly swiveled forward atop her head. She had heard something that strayed from the usual sounds of the swamp. Though not many Kairos wolves made a habit of visiting this place, it was not unheard of for someone to cross her path. Usually, the silent femme would stick to the shadows, her coat dappled perfectly for that kind of camouflage. She would watch and she would wait. Then, the visitor would leave and she would be alone once more.

But today, she was feeling differently.

Restless with her thoughts, she moved toward the disturbance. Sunlight flitted through the small openings in the lush green canopy, and she avoided the bright beams that had snuck their way through. She was a friend of darkness.

The wolf in her midst was an alarmingly large brute, definitely of Kairos. Although the scent of decay was overwhelming in the swamp, she was still able to make out his musky, brutish scent. Besides, what would a giant like him be doing in any other pack? Hidden in shadow, she ran her eyes freely over his form. He was lying on a bed of moss, tail tucked out of the water just to his left side. His coat was a plethora of browns, and it shifted in the dim light, appearing red. His russet muzzle was contrasted with handsome cream markings.

She thought of how vulnerable he looked, how easy it would be to sneak closer, unseen, and sink her teeth into his pulsing throat... She never would, though. She would never dare touch a single hair of such a fine specimen.

"Do you wish to have a visit from death?" Far let her voice snake out from the darkness, hoping to alert the brute to her arrival. The thought of a chat with this brute excited her greatly. She could already feel the play of words tickling her lips, eager to have a little game with the larger form in front of her.


---

Count | 555
Tagged | @ares
Muse | Excellent
Notes | HEY EVIE QUESS WHO'S BACK?!?!
[newclass=.pltxt]position: relative; z-index: 200; opacity: 0; transition: all 1.5s ease; -webkit-transition: all 1.5s ease; -moz-transition: all 1.5s ease;[/newclass][newclass=.plbase:hover .pltxt]opacity: .7;[/newclass][newclass=.pltxt::-webkit-scrollbar]width: 8px;[/newclass][newclass=.pltxt::-webkit-scrollbar-thumb]background: #000000;[/newclass]