Post by Deleted on May 25, 2016 22:15:23 GMT -6
[attr="class","plbase"]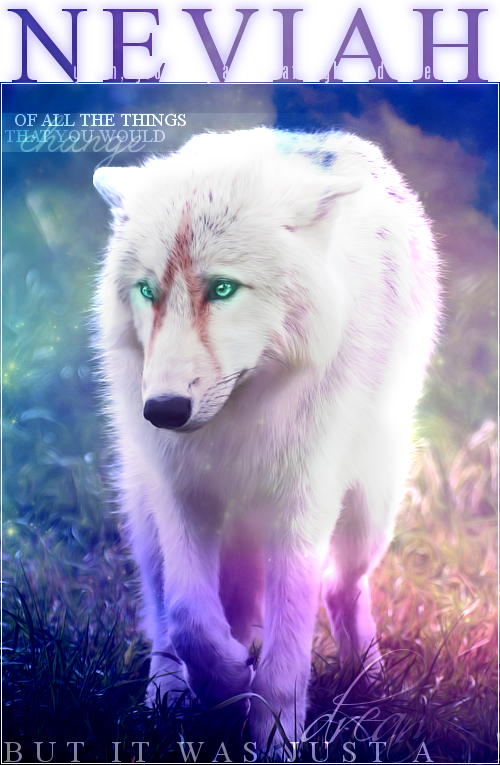 [attr="class","pltxt"]
The femme could hardly believe that Isaiah had come back to her.

After months of hoping that he would resurface, then more months of lost hope, Neviah could imagine a better turn of events. Her sweet mate was back, and so it seemed that his brother had returned to Kairos as well. Neviah could hardly keep up with all the activity around the pack as wolves came and went; there always seemed to be something happening that the dire femme wanted no part of. While she had gradually introduced herself to a handful of the pack members, the femme found that she was mostly just content to spend time with her mate, away from the remainder of the pack. That was never a problem, until Isaiah had fallen ill. Though he had not gotten worse, the femme was constantly concerned for her mate's safety. She had barely left his side for the past months, but the confinement was becoming too much even for her. She lived constantly in fear that she would contract whatever illness had left him largely useless. Only in the past few days had her mate been showing signs of improvement, enough that she felt confident enough to venture away.

She knew it was driving him crazy. Her constant hovering, her doting over his every move was growing on his last word. Neviah could see it in his eyes, but never did he say anything to her. It was that little bit of give and take that truly convinced her that the male loved her and would love her forever. She had taken it upon herself to hunt up smaller critters to feed him. His body was gradually regaining some of its former shape, but he still had much more recovering to do before he was back to the condition she had once met him in Acerbus. Her mate had yet to tell her exactly where she had been all that time, but Neviah never pried. She was just content that he was home.

But what Neviah did not expect was to find that pack turned back upside down when she re-entered the normal world once more. While Kegan had told her young Typhon had taken leadership of the pack, the scent markers around the territory spoke otherwise. It was clear to her that Typhon was no longer the dominant male here; Isaiah's brother had returned. It would likely be in her best interest to seek out Goliath and properly introduce herself, for in all her time here she had not once fully introduced herself to the Emperor. And whether that be Typhon or Goliath, she needed to do so. But for right now, she was content to just enjoy the sunshine, for it had been much too long since her last trip to the entrance of the caverns.


---


Tags: Anyone is welcome.
Notes: N/A


[newclass=.pltxt]position: relative; z-index: 200; opacity: 0; transition: all 1.5s ease; -webkit-transition: all 1.5s ease; -moz-transition: all 1.5s ease;[/newclass][newclass=.plbase:hover .pltxt]opacity: .8;[/newclass][newclass=.pltxt::-webkit-scrollbar]width: 8px;[/newclass][newclass=.pltxt::-webkit-scrollbar-thumb]background: #9685f9;[/newclass]