Post by Tasnim on Feb 27, 2020 15:14:05 GMT -6
OOC
Name
: Sylph
Years RPing
: 10+ years
Slot Used
: Free Slot
How You Found Us
: Returning member
General
Name
: Tasnim
Tas-NEEM
-
Fountain of paradise
Birthday
: September 22, 2016
Gender
: Female
Species
: Apennine Wolf
Physical
Height
: 27 inches
Weight
: 75lbs
Coat Color
: Black, Grey, White
Eye Color
: Yellow
Purchased Items
: n/a
Inherited Items
: n/a
Litter
: n/a
Health Issues
: Manic hallucinations, 70% use of rear left leg due to a poorly healed injury
Other Information
: Nerve damage in leg has lead to a smaller range of motion
Mental
Mental Stability
: Unstable
History
:
TW: Brief mentions of attempted murder, violence, emotional manipulation. Cult-like behavior.
Her earliest memory consisted of screams and growls. Tucked safely under the weight of her older sister, Tasnim could only remember voices. A female crying out in the early morning and the whimpers of her siblings. A large female the color of evening snow and eyes as piercing as the morning sky had dragged her from beneath her sister. Her siblings were scattered about the nursing den, each bearing strange markings on their legs. Tasnim was dragged from the litter by her left hind leg, teeth digging deep into flesh and splicing nerves from the pressure. The silver femme was only referred to as Mistress as the female she had only known as mother begged and screamed for her to drop the pup in her maw. Her siblings bore scars of that night, whether both mental and physical, time would only tell. Tasnim was separated from her litter mates at a young age. The Mistress taking her in as her own. In her later years, she would learn that her own mother was deemed improper to raise a litter. She had hidden Tasnim and her siblings from The Mistress, prompting the tumultuous first introduction to the world. She suffered nerve damage in her hind leg from The Mistress's careless handling.
Any inkling of what her life could have been, was wiped away in an instant. All she knew from the day she was dragged from her mother, was that she was Tasnim and daughter of The Mistress. Why their alphess chose her among all of her siblings, she could never know. The pack lived in the northern most reaches of Anikira. Their numbers weren't many, but they were close all the same. In her first two months of life, she had been plucked from her mother's side and woken up on a completely new island. Her pack had been transferred, seemingly over night, to somewhere called The Southern Isles. They picked and scavenged, stealing from nearby wolves to survive. They were a unit and encompassed the land they claimed their own. When time came to return home, Tasnim was carried through the tunnel. Her pack near the tail end of the journey. The Mistress guarded the young one, jealously. She had convinced the pack that she was her own, erasing any memory of the traitorous female. The Mistress had plans to groom Tasnim into a leader. Implanting stories in her mind of a realm outside their own. A realm that all will go to in time.
In her first year of life, Tasnim began to be plagued by hallucinations. The trauma she suffered as a youth and at the hands of her maternal figure, had culminated in auditory hallucinations of screaming and visions of the seemingly lifeless forms of her siblings. Her training included days without sleep and isolation from the pack. She was meant to commune with this supposed realm. The Mistress punished her if she returned before she was meant to. Tasnim never had a truly maternal figure in her life. The Mistress treated her like a pawn and was meant to be a conduit between realms. She treated Tasnim's hallucinations as a sign of her training's progress. Tasnim was forbidden from contacting anyone else in the pack for long periods of time. Most of her first year of life was spent inside an enclosed den for hours on end. The pack mimicked a family dynamic, but females were forbidden from breeding without express permission. Females who had litters that the lead deemed too weak, they were dealt with. Her siblings had been maimed in different ways, but were of the lucky ones to survive.
In the autumn of her second year, Tasnim was allowed out of her isolation. She was guided toward a clearing and surrounded by the rest of the pack. Her oldest sister and The Mistress observed as the males in the pack cornered her. They had set her up for an ambush, hoping that spilling her blood would bring them closer to the realm. She had been groomed for nothing more than a sacrifice. The wolves who had treated her like family, were now fighting against her. She struggled to hold her own, when her older sister intervened. She managed to get Tasnim up and held off the attackers. Tasnim darted off into the night. They gave chase and she managed to escape down a ravine, blacking out at the bottom. She awoke delirious and alone. She spent days resting to heal her injuries, an ache in her chest from her sister's sacrifice. Her hallucinations worsened as time went on, the screams grow louder and the figures grow in number. She wanders in a daze, unsure of where she's meant to be. Her family was a lie, her birth parents were missing. Plagued by the echoes of the past, she wanders until she can truly find her place in the world. Somewhere away from the trauma and lies of her past.
Personality
:
Tasnim has always felt very disconnected from herself. Isolation and manipulation has left her without a true sense of intimacy. She keeps those around her at a distance despite her desperate need for a connection. She doesn't truly feel grounded in life. She has been raised thinking she was some elegant being and wears a solemn mask in social situations. She's genial and eloquent in her speech patterns, speaking like someone much older than she is. She holds her head high and appears to look through you rather than make any conscious connection.
She has a manic personality. She suffers hallucinations, mostly auditory, but not always. She has voices in her head that consistantly goad and belittle her. She feels more like a spirit herself than a corporeal being. It goes without saying she lacks any sense of trust. She is disconnected from herself at the best of times. She suffered greatly under a wolf she considered family and has no sense of what is true or false. She is a quiet soul deep down, observing rather than interacting unless needed. She could be considered truly submissive in demeanor, but has been known to show aggression if cornered. Tasnim appears to suffer divided personalities, but is unaware of it herself. She has a version of who she believes she is and who she actually is.
She is elegant and mild mannered with a warrior spirit, but inside she is shell shocked and demure. There's no pinpointing what triggers the shifts between the two. She speaks plainly and evenly despite her muscles tensing with fear. It's as if her mind and body move independently of each other. She has shown a mixture of confusion and aggression toward males and absolute terror toward other females. Her isolation and grooming has left her with a mixed bag of instincts that don't always line up with a situation.
Image
: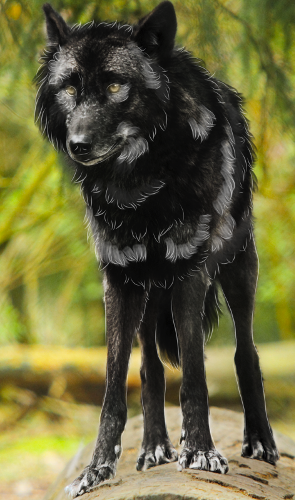 IMAGE SOURCE HERE
Ref by Vy